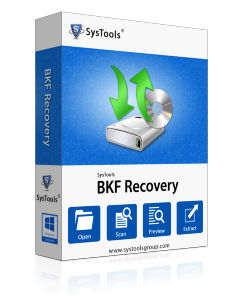 BKF Windows 7 Restore Tool
Are you not able to access Windows 7 backup files stored on your system? The issue can be easily shortened with intelligent BKF Windows 7 restore tool. Ours is one quintessential application to revive inaccessible backup files whether you have stored the files in Windows XP, Windows 7, Windows 2003 or other version of Windows OS. The software is named as BKF Recovery and engaged in complete as well as secure BKF file recovery for all types of files created in computer system.
Revive Corrupt Backup Files With BKF Windows 7 Restore Tool
How BKF Repair Tool Works?
Scanning and complete recovery of BKF files are possible with demo version of software that can be easily downloaded from the official website of organization. With this utility, users can see complete process of Windows BKF file recovery whether the backup file for PPT, Word file, music file, or video file has to be recovered, the MS backup recovery tool works. As well as it recovers the entire backup files within short span of time. BKF Windows 7 restore tool is helpful to revive data items without any data loss; all such facilities can be easily checked with the trail tool.
Satisfied With Free Windows BKF Recovery Software Then Purchase Full Pro Version
Our BKF Windows 7 restore tool in free demonstration mode will surely help you to resolve all the queries in your mind. After trying all your doubts, you will have to use BKF Recovery software in licensed mode whether it is Personal, Business, or Enterprise license because free tool will not help you to store unlimited BKF files into the computer. Free tool only designed to show execution of BKF file recovery and storage. Scanning process of software is also useful for computer users to get back accurate data from inaccessible backup files. Computer users can also recover data with remote installation services offered by organization.