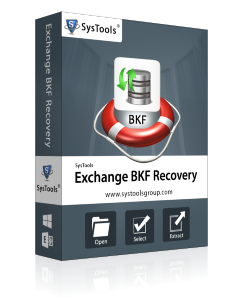 Exchange Server Mailbox Recovery
Unable to Extract Exchange Server Mailbox store from corrupt BKF file?
BKF Repair Tool does not extract Exchange Server Mailbox Stores from corrupt BKF File. We provide a specialized service to extract Exchange Server mailbox store from corrupt BKF File. Our technician and professional are well versed with the format of MS Backup File created using NTbackup.exe. We will help you recover Exchange Server Mailbox File from corrupt BKF File using our guaranteed Exchange Server Mailbox Recovery Services.
Extract Exchange Server Mailbox from corrupt BKF File
Prior to Restoring Process, make sure the Information store is started. To start the information store, Right-click on My Computer > click on Manage > go to Services and Applications > Services > right-click Microsoft Exchange Information Store and choose "Start".

From Exchange System Manager, navigate to Administrative First Storage Group. Right-click on the Mailbox store you are going to restore and choose "Dismount Store

After the Mailbox store has dismounted, right-click again and choose "Properties".

Then click on the database tab and select or check the "This database can be overwritten by a restore"

Click Start > Programs > Accessories > System Tools > and click Backup

If backup starts in wizard mode, select advanced. Click on the Tools tab and sele ct "Restore Wizard" and then click Next

On the What to Restore screen, if your backup file is not listed. Locate the corrupt backup file using Browse button and click on OK to catalog the backup file.

Then choose the mailbox store you want to restore and log files and click on Next Button

Verify that your server name is listed under Restore To, choose a temporary path for log and patch files, and select Last Restore Set (unless you will be restoring incremental backup files after this). Click Next to start the restore process.

When the restore is complete, Return to Exchange System Manager and mount your restored mail store. If the restore process was successful, the store should mount without error.
Extract Exchange Server Mailbox Store or Mailbox Database & files from corrupt MS Backup File created using NTbackup.exe. Try using Exchange Server Recovery Services to extract Exchange Mailbox Store.