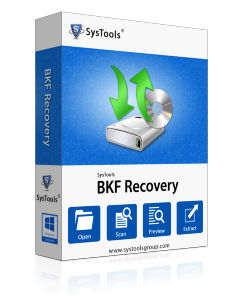 Quick Restoration of BKF Database

The software successfully supports all 32 bits Windows versions.


Resolves all errors that obstruct smooth & Quick Restoration of BKF Database.


Free demo version to have a close look to the working of software and preview the recovery process.


Data, metadata, folder structure remains as it is.
Quick Restoration of BKF Database – Fundamentals of Recovery
Quick Restoration of BKF Database is possible with BKF Recovery software so that you can get back the backed up files back. It is third-party software that helps in retrieval of wrecked backup BKF files. Some of the common reasons that leads to corruption in BKF files are:

Missing Catalog Files:: Catalog files are those files that allow NT backup to Restore Data from Backup Files. These files are actually produced during backup creation and stored in a folder in the system.The problem with catalog files is that, the set which is created first shows up under the restore tab but the sets, created concurrently do not appear under restore tab.

Size Limit of Backup Files: The FAT file system is characterized by file allocation table and supports a storage memory of 4 GB for files to be backed up. However, FAT file system is available in older versions of Windows but the newer versions has NTFS file system that can store backup files up to unlimited size limit. If you are working with FAT file system and backing up data has a size more than 4GB, it leads to corruption In BKF files.

Bits Related Information: Bits is the background transfer service works on identical language.When the system is idle, then BITS will be active in background. If backup process is set to run simultaneously with bits, then the backup data thus backed up will be corrupted.